NEWS
Tuning NEWS:
Leistungsmessung KW-unit 1 auf BMW 335i abgestimmt
Die Leistungskurve der Serie und die Leistungskurve mit der KW-unit auf einem Diagramm gegenübergestellt. Der Unterschied in Leistung und Drehmoment wird deutlich sichtbar. Wenn Sie auch ein Diagramm von Ihrem eigenen Fahrzeug haben möchten, so sprechen Sie uns an.
Wir bieten Leistungsmessungen in Aachen / Alsdorf für jeden an.

KW-unit 2, Injektoreneinzelansteuerung jetzt auch im Shop verfügbar
Nach und nach wird die KW-unit 2 ergänzt. Wenn Sie diese bei Ihrem Modell noch vermissen so schreiben Sie uns einfach an.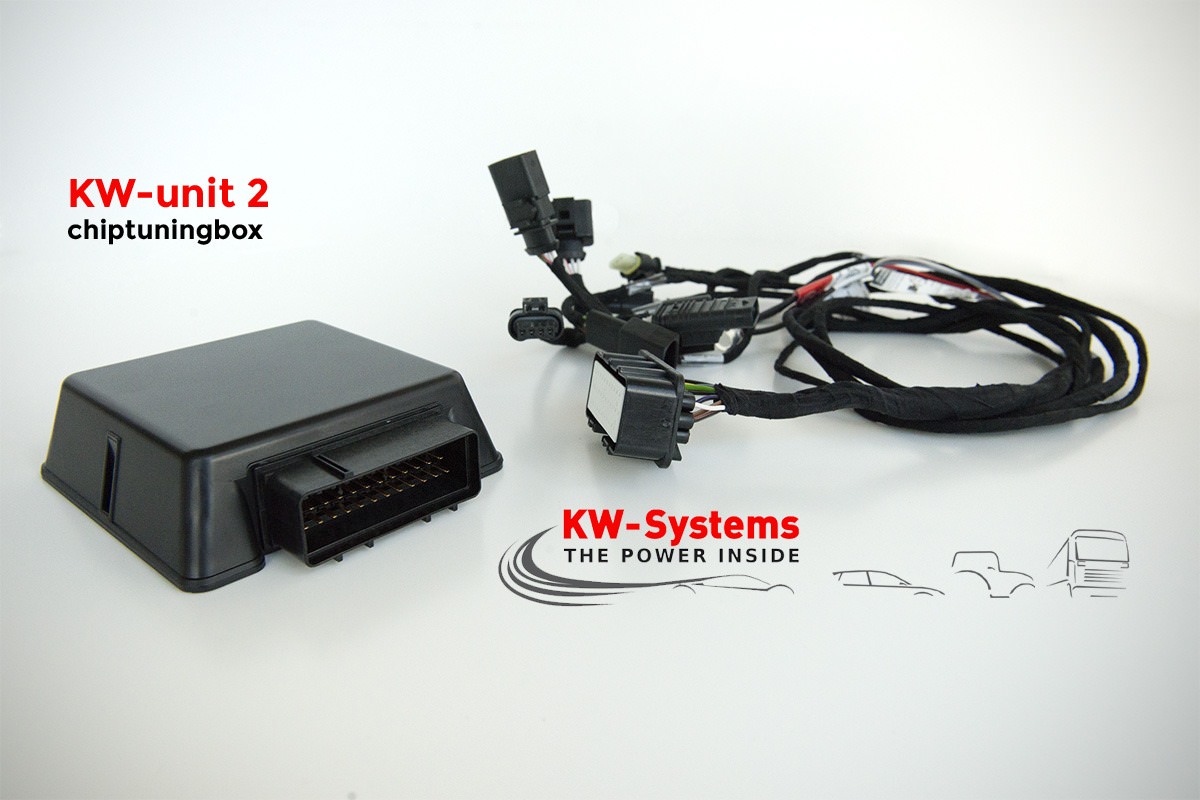 Ford Transit 2.0 TDCI AdBlue Euro 6 125 kW / 170 PS / 405 Nm:
mit KW-unit 1 auf 200 PS / 470 Nm
Schon mit Serienleistung kein langweiliger Motor, mit der KW-unit jedoch zieht er nochmal besser und kann fast ausschließlich immer einen Gang höher gefahren werden.
Beste Vorrausetzungen also um Diesel zu sparen. Ein Verbrauch von unter 10l / 100 km sollte gerade bei hoher Beladung kein Problem sein.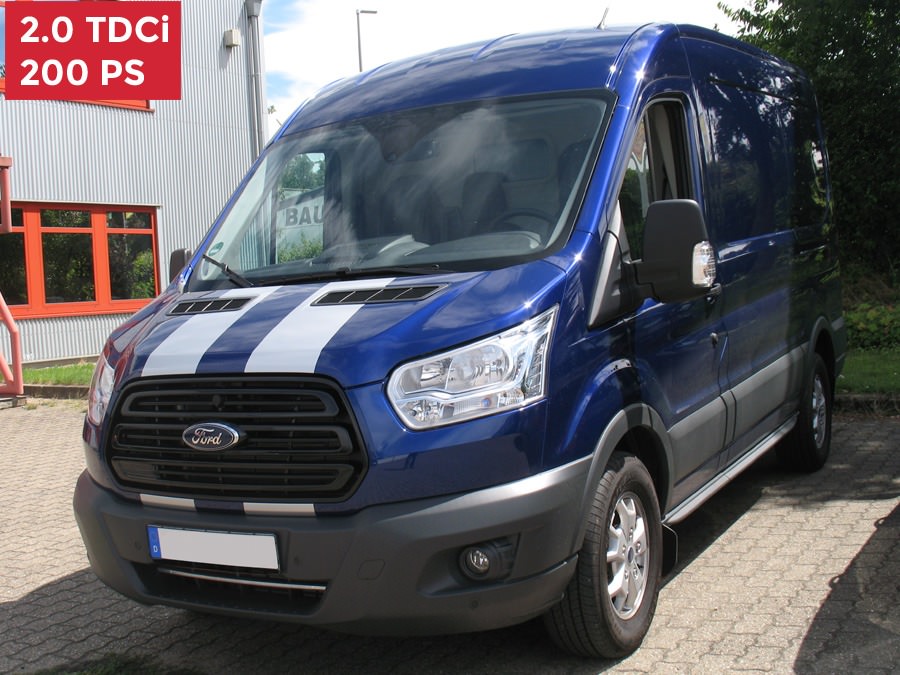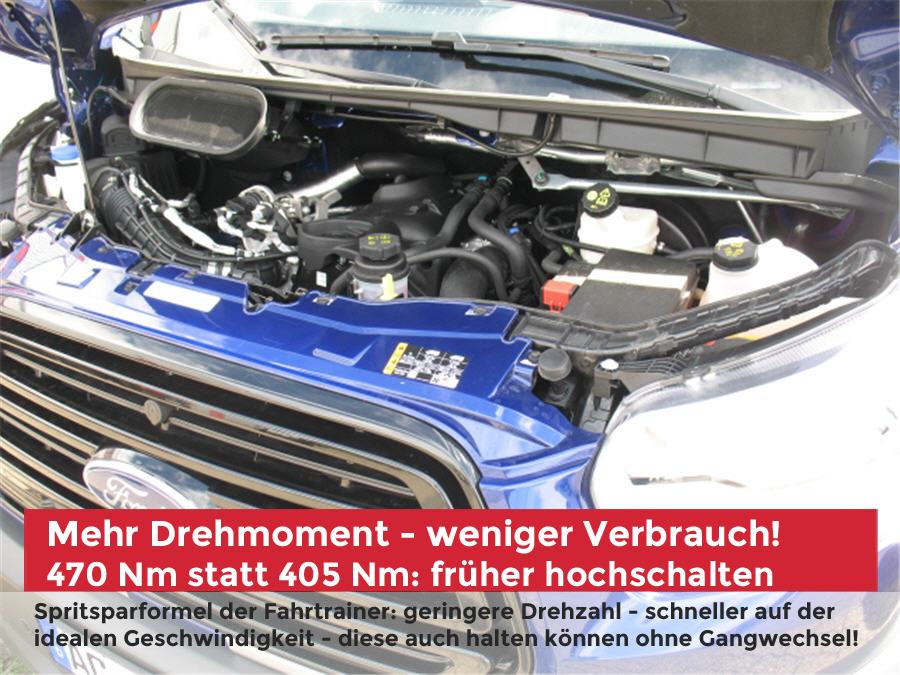 VW-Dieselumrüstung: Istkostenerstattung nach Tuningrechnung
Unser Verband (VDAT) hat uns folgende Info gegeben die für diejenigen interessant sein dürfte die sich per OBD oder anders ihr Motorsteuergerät haben "chippen" lassen und nun zum Update bei VW, Audi, etc. "einberufen" werden oder worden sind.
"... Gemäß einem Bericht in der aktuellen Automobilwoche bemüht sich Volkswagen auch die Halter von nachträglich motoroptimierten Fahrzeugen "bei der Stange" zu halten. Dem Bericht zufolge übernimmt VW die Kosten für die Wiederherstellung des getunten Zustandes.
Die Vergütungsregelung bezieht sich demnach auf die Istkosten-Erstattung nach Tuningrechnung.
Nach Recherche des VDAT wurde die o.g. Handhabung den Händlern in einem Rundschreiben zur Diesel Rückrufaktion (Motor EA 189) am 22. Mai 2017 mitgeteilt und bereits praktiziert.
Ob Volkswagen dem Kunden darüber hinaus eventuelle Ausfall- oder Wegezeiten ersetzt, die z.B. durch Versand eines Steuergerätes
an den Tuner oder durch den Werkstattbesuch beim Tuner anfallen könnten, ist derzeit nicht bekannt.
Begrüßenswert ist die kundenorientierte Verfahrensweise von VW gegenüber betroffenen Tuning-Kunden im Grundsatz allemal!

Herzliche Grüße
VDAT – Verband der Automobil Tuner e.V."

Kunden die sich für eine KW-unit entschieden hatten betrifft das nicht, da das Kennfeld der KW-unit durch ein Update in der Werkstatt nicht überschrieben werden kann.
Da zeigt sich mal wieder dass das Zusatzsteuergerät eine bessere Alternative ist.
Nach dem Update bei VW ist das Chiptuning (Tuning über das Motorsteuergerät) verloren, man hat Ärger und Frust sowie Zeitaufwand, da das Fahrzeug nochmals Chipgetunt werden muß.
All dies wäre vermeidbar gewesen hätte man sich für ein Tuning per Zusatzsteuergerät (KW-unit) entschieden.
Statement von unserem Händler in Neuseeland
Der Ford Ranger 3.2 TDCI (auch Mazda BT) ist in Neuseeland und Australien sehr verbreitet. Australier und Neuseeländer haben ein sehr ausgeprägtes Interesse an Motorleistung, sie können eigentlich nie genug bekommen. Andererseits muß die Technik aber auch zuverlässig unter extremen Bedingungen funktionieren. Hohe Ansprüche also die an den Tuner gestellt werden. Unser Händler hat sehr viel Erfahrung mit diesem Motor und diversen Tuningtechniken sammeln können. Er vergleicht stets auch die KW-unit mit Zusatzsteuergeräten und Chiptuning anderer Hersteller. Sein Fazit: die KW-unit ist aber unübertroffen und funktioniert auch unter den härtesten Bedingung im Australischen Outback. Hier seine Einschätzung in Originalton
Ford Ranger tuner. Need a good solution for a late model Ford Ranger or BT50 with piezo electric fuel injectors and is still in warranty. The KW-Systems unit will add some fuel and some boost and make a nice responsible 18-20% gain in power and torque.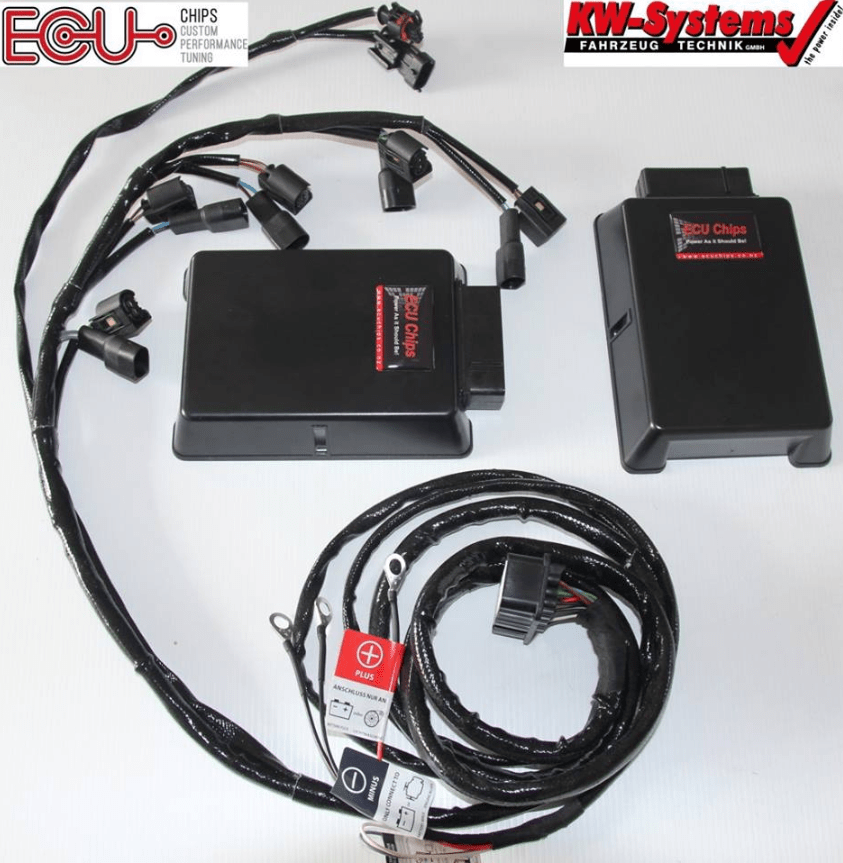 This is the perfect solution for a late model Ranger or BT, Simple and easy to install and nice reliable power gains.. ...
These units are plug and play. They connect to the fuel injectors and boost pressure sensor and are tuned to make a gain that will not run the engine rich and cause problems down the line.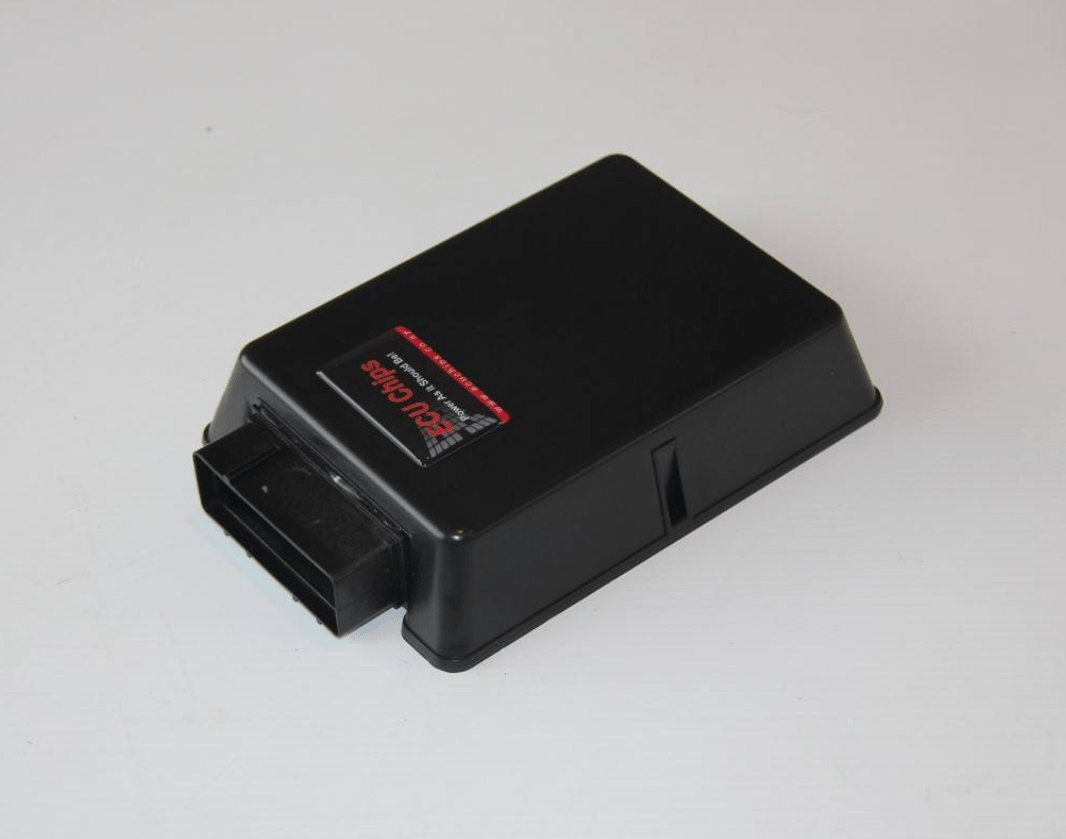 We have sold a lot of these units which have proved to be very reliable and solid performers. These two are going out to customers today but we have more in stock. Full time trained dealers in South land, Christchurch, Marlborough, Palmerston North and Auckland. We have similar units for almost all modern Euro engines, BMW, Audi, Mercedes and Porsche diesels and all no problem as are pretty much all the other Euro brands. Some of the other Euro engines that have better turbos than the Ranger can have a stronger performance gain as well
Kundenstimme des Monats
Verehrtes KW-Systems Team, sehr geehrte Gebrüder Fink,
hier meine Stellungnahme zu den Erfahrungen mit KW-Systems. Sie dürfen gerne daraus zitieren oder sie irgendwie für Werbemaßnahmen verwenden, wenn Sie mögen, auch mit meinem Namen.
Nach Golf 4 (1998) und VW Sharan (2004) hatte ich nach über 10 Jahren Chiptuning-Abstinenz mal wieder das dringende Bedürfnis nach Diesel-Mehrleistung. Meine positiven Erfahrungen mit dem KW-Systems-Chip hatte ich schon beim Gebrauchtkauf meiner einjährigen Mercedes E-Klasse 200 Bluetec im Sinn – kann sie doch alles, und das richtig gut, außer eben souverän beschleunigen.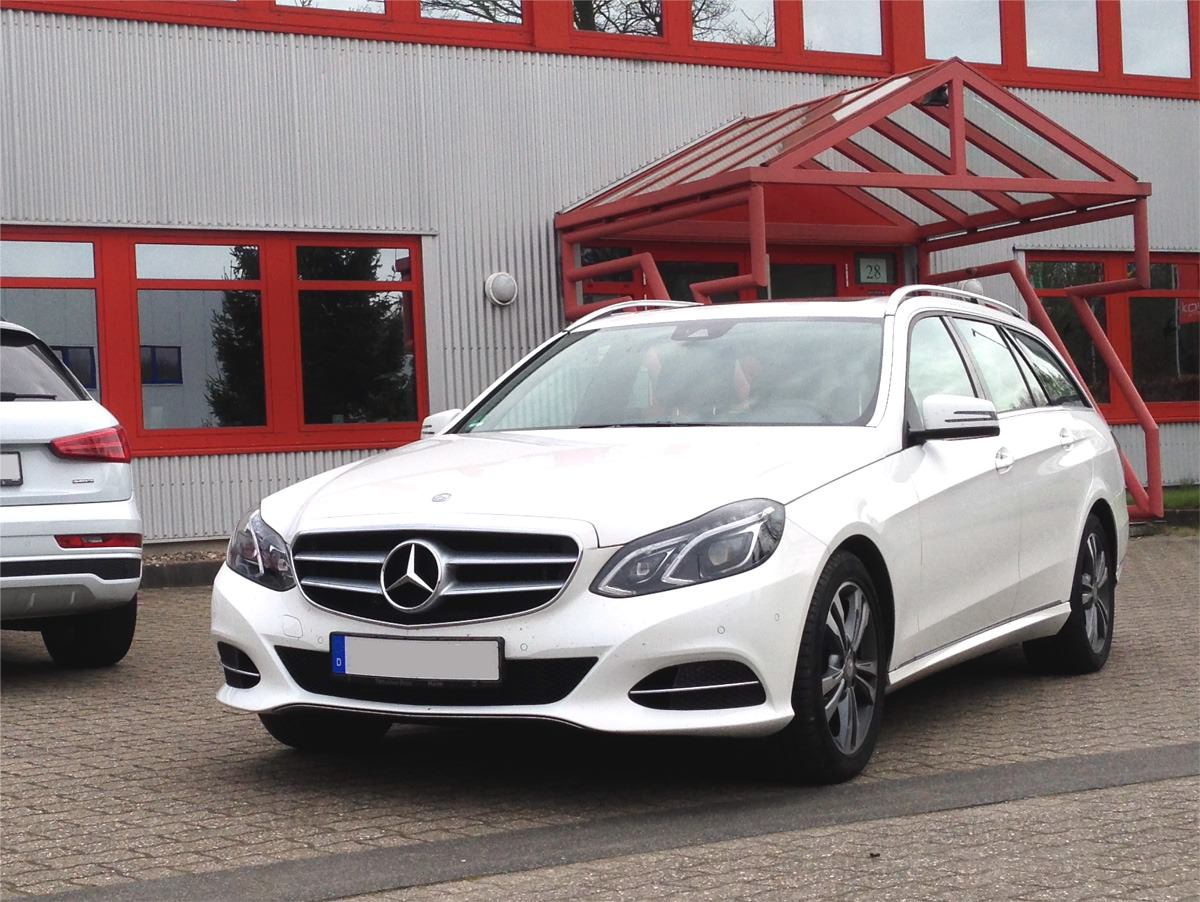 Sollten auch nur irgendwelche Zweifel daran bestanden haben, ob der Chip wirklich nötig ist, waren diese jedenfalls mit den ersten Fahrkilometern nach dem Umbau ausgeräumt. Jetzt läuft das Auto genauso, wie es sich gehört – ich vermute mal stark, wie die nächsthöhere Motorisierung bei MB, also wie ein 220er (der nach LP deutlich über 2000 € mehr kostet). Der unter dem Gasfuß fühlbare angenehme Drehmomentverlauf bleibt in der Gesamtcharakteristik über der Drehzahl erhalten – "nur" das Niveau wird angehoben und ab sofort sitzt man in einem adäquat motorisierten Reiseauto. Die persönliche Aufnahme als Kunde bei KW-Systems war wieder sehr freundlich – nach einer guten Stunde Aufenthalt bei Kaffee und Autozeitschriften war alles erledigt – und der Chip sauber und professionell eingebaut. Im Unterschied zu früher kann man ihn sogar ganz einfach mechanisch überbrücken, soll heißen das Motorkennfeld auf den alten Serienzustand zurückstellen - für bestimmte Anlässe, falls erforderlich.
Die Anbaubestätigung des TÜV kam wie vereinbart zwei Tage später per Post nach Hause. Damit wird die neue Nennleistung bescheinigt, die dann der Versicherung gemeldet wird. Nochmals vielen Dank an das Team,

Gruß aus dem Hannöverschen, Dr.-Ing. Stephan Zimmermann
P.S.: Nach dem Besuch, bei dem wegen weiterer Termine in der Gegend meine Frau mit dabei war, bekam die Berufsbezeichnung "Motor-Tuner" bei meiner besseren Hälfte eine völlig neue Bedeutung – keine Ahnung, was sie sich da zuvor vorgestellt hatte … "willst Du da wirklich hin?" Antwort: Ja! Jederzeit wieder! Wird nur nicht so bald passieren, weil ich vorhabe, das Auto länger zu behalten.
Wir können auch das i-Art Einspritzsystem
Volvo V70 2.0D4 133 kW / 181 PS i-Art:
Serie 133 kw / 181 PS / 400 Nm auf 160 kW / 218 PS / 490
"Die Box funktioniert super in unserem Kundenfahrzeug! 1l weniger Verbrauch & viel mehr Drehmoment von unten!" Telefoninterview: "Sehr kräftiger und sauberer Durchzug. Harmonische Schaltübergänge. Spitzenleistung!! Spricht auch ohne Gaspedalelektronik wesentlicher besser auf Gaspedalbefehle an, viel sensibler und sportlicher. Der Verbrauch ist etwa. 0,5 - 1,0l geringer als vorher."
Was ist Volvo i-art?
Nein, das hat in diesem Falle mal nichts mit Apple zu tun.
i-Art heißt: "intelligent Accuracy Refinement Technology"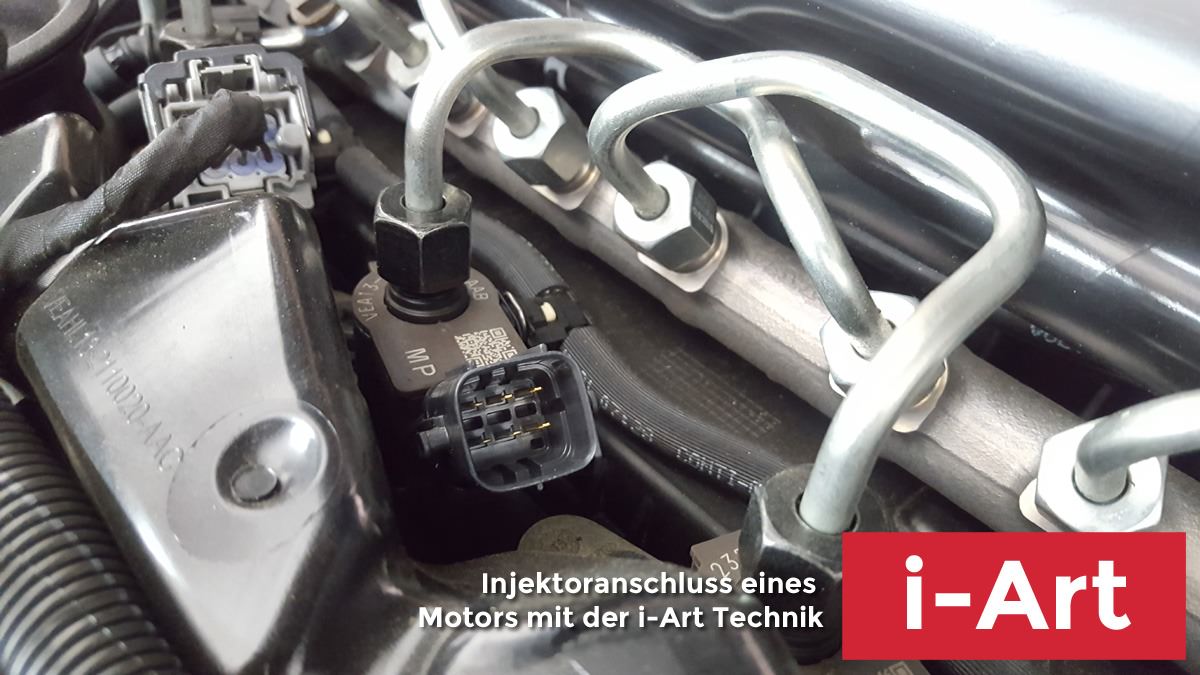 Volvo hat die Common-Rail-Technologie weiterentwickelt:
Statt eines einzigen Drucksensors in der Kraftstoffleitung wie üblich, sitzt in den neuen Motoren in jeder Einspritzdüse ein kleiner Drucksensor. So kann die Einspritzmenge individuell für jeden einzelnen Zylinder gemessen und geregelt werden.
Der Druck pro Verbrennungsvorgang ist jetzt bei allen Zylindern gleich hoch.
Das heißt:
alle Tuner die mit Raildruckboxen arbeiten (davon gibt es unzählige Angebote im Internet) haben bei diesem Motor ein Problem.
WIR NICHT!
Da wir seit über 12Jahren die Injektoreneinzelansteuerung weiterentwickelt haben verfügen wir über das entsprechende KnowHow im Umgang mit diesen Einspritzanlagen.
Apropos Einspritzdruck: nicht nur die Steuerung ist neu, auch den Einspritzdruck hat Volvo auf erstaunliche 2.500 bar gesteigert.
So steigt die Leistung in der Serie, Verbrauch und Schadstoffausstoß hingegen werden besser. Wie man anhand unserer Werte erkennen kann geht es aber bei konstantem Druck immer noch eine Spur besser.
Solide Ingenieurleistung ist halt immer im Vorteil gegenüber aggressiver Vermarktungsstrategie über Internet wie andere es zu Dumpingpreisen mit Billigsystemen praktizieren und dabei die Kunden nach dem Kauf alleine lassen wenn`s nichts funktioniert und sogar Schäden gibt.
Fahrzeug-Tuning innerhalb der Garantie
führt NICHT zum Garantieverlust!
Info des VDAT: Presseinfo VDAT März 2016. Download
VDAT: Pauschaler Gesamtfahrzeug-Garantieverlust ist unzulässig!
Verbraucher durch "Fehl"-Kommunikation verunsichert
Nur betroffene Baugruppen verlieren die Garantie
.....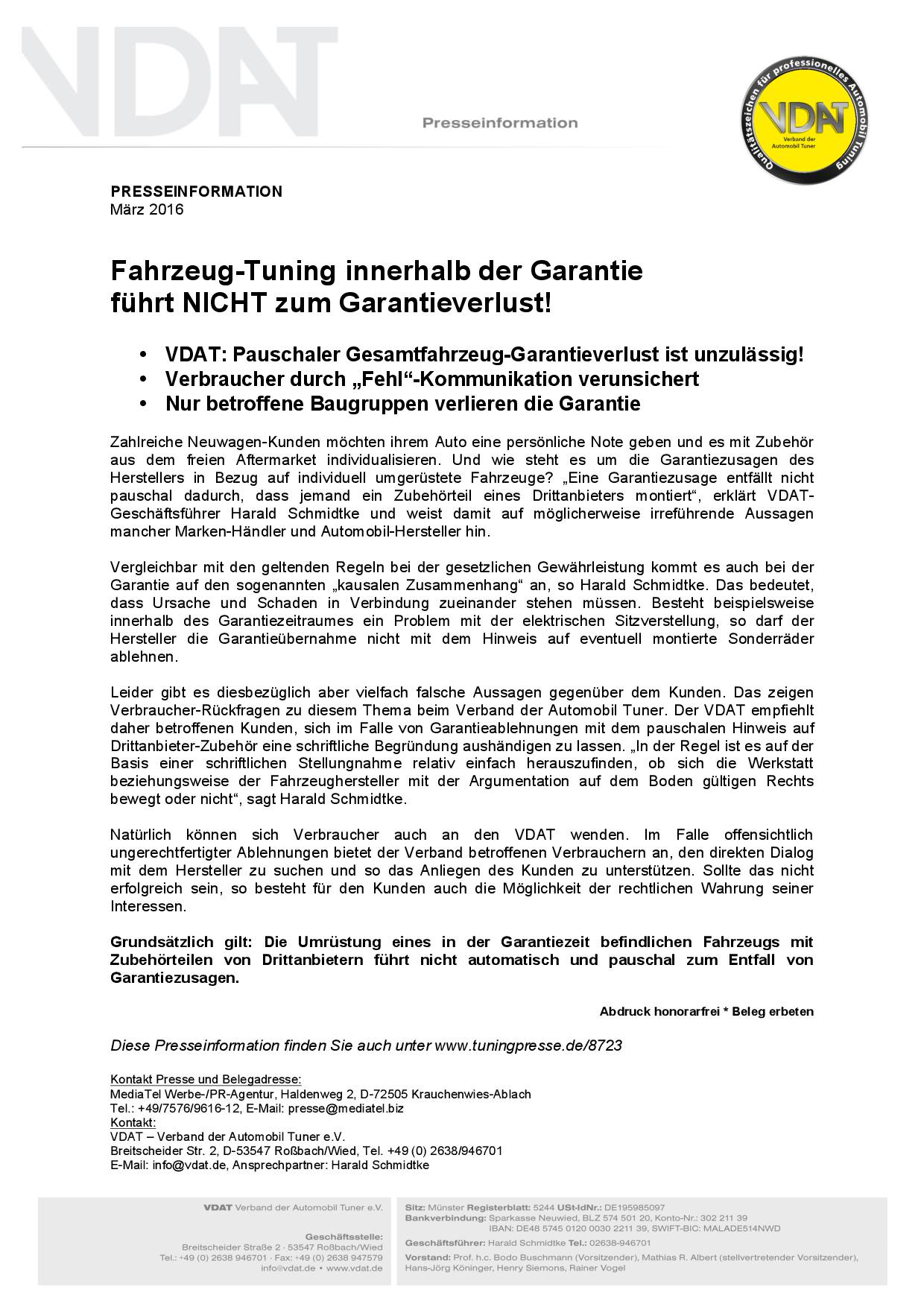 MERCEDES AMG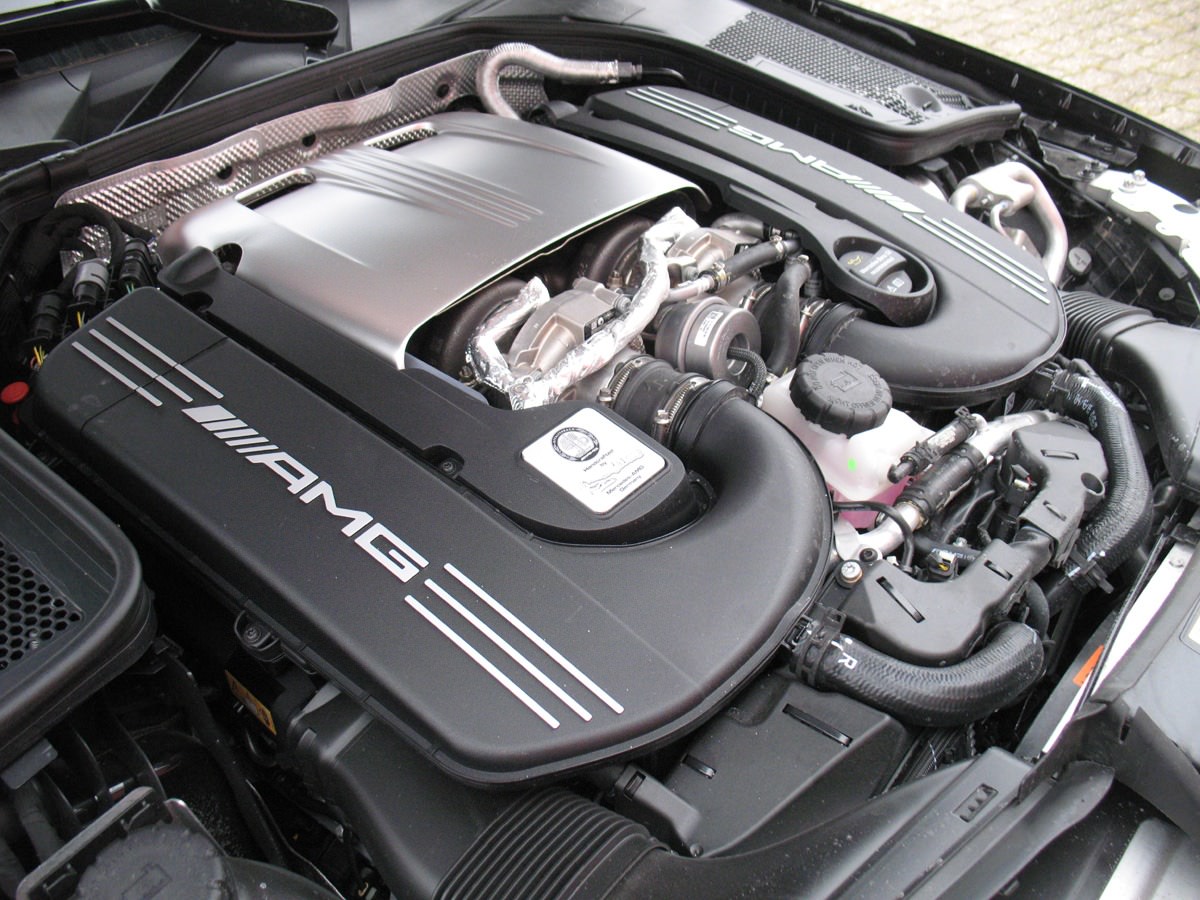 MERCEDES C 63 AMG: 590 PS

MERCEDES CLA 45 AMG 2.0 405 PS

MERCEDES CL 63 AMG 5.4 604 PS / 950 Nm

MERCEDES CL 63 AMG 5.4 604 PS / 950 Nm

MERCEDES CL 63 AMG 5.4 631 PS / 1.050 Nm

MERCEDES CLS 63 AMG 5.5 617 PS / 950 Nm

MERCEDES CL 63 AMG 5.4 604 PS / 950 Nm
Mercedes C 63 AMG 4.0 590 PS statt 476. 816 Nm statt 650 Nm.
(Wem das zuviel ist der kann auch 562 PS und "nur" 766 Nm haben. ;-) )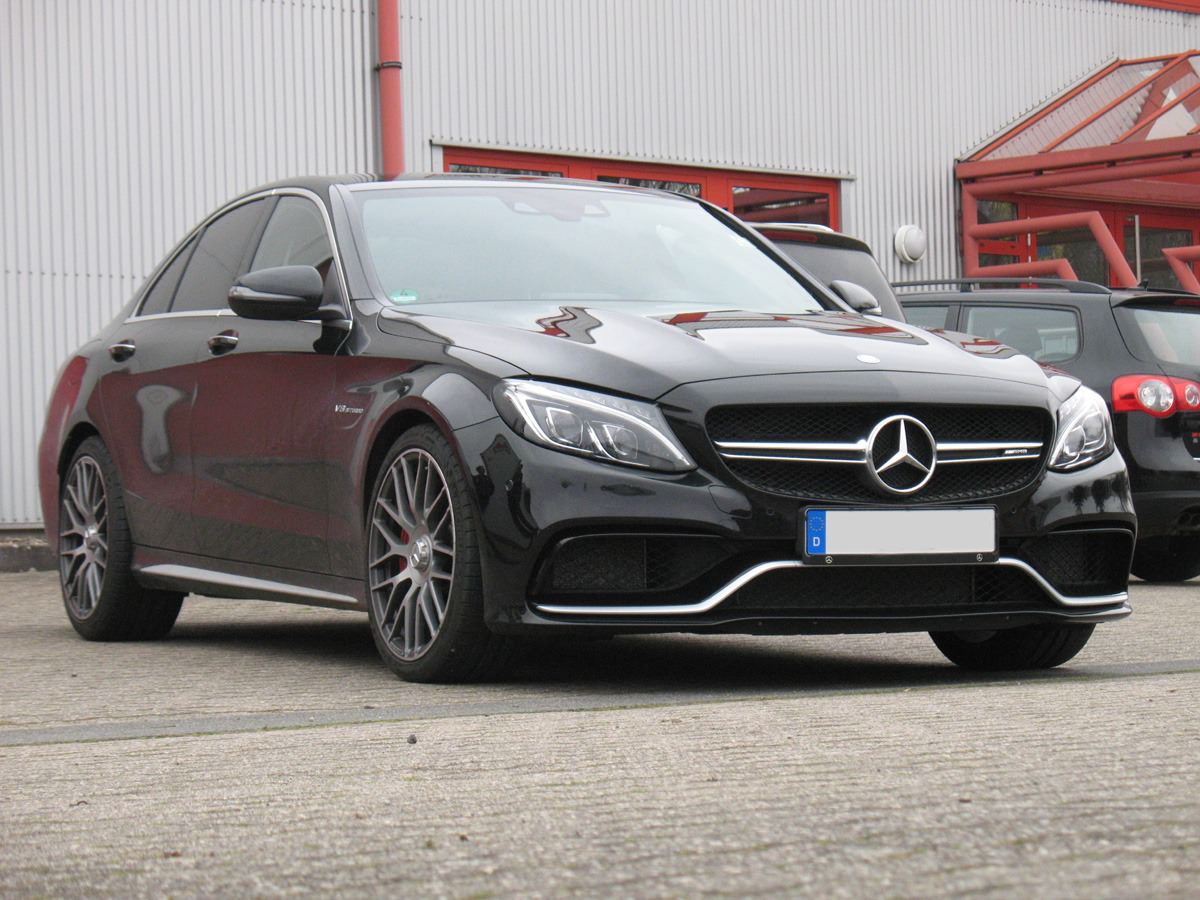 Leistungsmessung BMW 435d nach Tuning mit KW-unit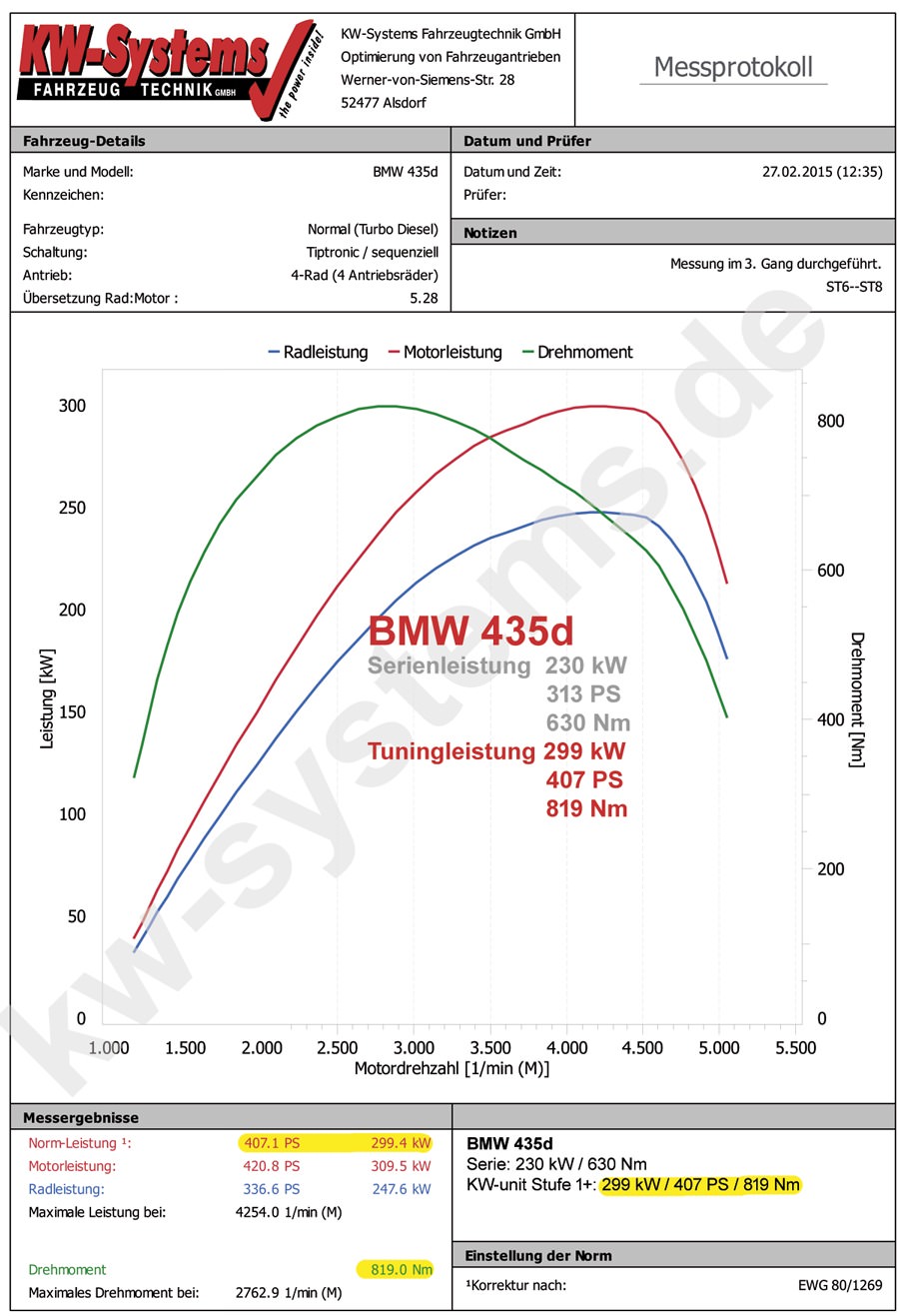 Das kann sich doch sehen lassen - oder?